Join ASIA FRUIT LOGISTICA for a tech showcase
Company news
Leading machinery and technology players exhibit a range of solutions at Asia's premier fresh produce trade show. The ASIA FRUIT LOGISTICA Virtual Focus Day opens on 12 October.
Thu 13/10/2022 by Richard Wilkinson
Follow us :
From optical sorting solutions to innovative tools to track products throughout the supply chain, tech is taking the fresh produce business to the next level.
Visitors to ASIA FRUIT LOGISTICA on 2-4 November in Bangkok can take in an exciting array of technology solutions from leading global.
Exhibitors from some 40 different countries and regions are set to showcase their products and services at Asia's premier fresh produce trade show.
Purchase your tickets at the online ticket shop to enjoy up to a 40% discount compared to the onsite rate and meet them onsite: https://www.asiafruitlogistica.com/buy-your-tickets/?from=1
Packhouse automation is bringing new levels of efficiency and improved returns to the industry. MAF RODA AGROBOTIC, Reemoon, TOMRA Food and Unitec will exhibit a range of their latest packaging and grading technologies.
Fuji Machinery and PND Fruit Processing Machinery will also display and explain leading packaging machinery and fruit processing solutions respectively.
Key technology players will be out in force at ASIA FRUIT LOGISTICA, including Awww World, DeltaTrak, Dimuto, Emerson, Felix Instruments, Purespace, Tive and Zentron Labs.
ASIA FRUIT LOGISTICA is an essential industry platform and meeting point for TOMRA Food, which is looking forward to meeting customers and colleagues from across the world.
"Nothing stops us exhibiting at ASIA FRUIT LOGISTICA – our local and global teams gather there to connect with the Asian fresh produce market," said Paul Slupecki, head of global sales for TOMRA Fresh Food.

"It's a great platform to showcase our latest optical sorting and filling machinery solutions. It's also fantastic to meet with other professionals and thought leaders to enhance the fruit industry."
View the full list of ASIA FRUIT LOGISTICA exhibitors and their offerings at ASIA FRUIT LOGISTICA's online catalogue: www.asiafruitlogistica.com/catalogue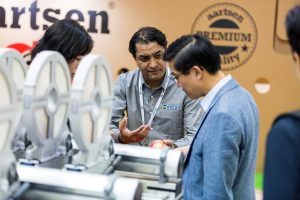 Virtual Platform
The ASIA FRUIT LOGISTICA Virtual Platform is now fully open with communication and meeting scheduling functions accessible to all registered attendees of ASIA FRUIT LOGISTICA 2022.
Visitors can join the platform to make onsite appointments, chat and exchange business information with exhibitors online and ahead of time.
The ASIA FRUIT LOGISTICA Virtual Focus Day also streams on the virtual platform on 12 October. Top executives share expert insights in a mix of interviews, lively panel discussions and product presentations.
Access the ASIA FRUIT LOGISTICA Virtual Platform here: virtual.asiafruitlogistica.com
For ticketing and online ticket shop queries, please contact the ASIA FRUIT LOGISTICA team via email: tickets@gp-events.com or visit www.asiafruitlogistica.com.