Increasing interest in the German market for the Intense tomato
The tomato you didn't know you needed
Tue 03/03/2020 by Richard Wilkinson
Follow us :
Does this sound familiar? When you're slicing a tomato, the chopping board is covered in juice and the slices fall apart. Or, you take a freshly made tomato sandwich to work or school in the morning and by lunchtime all you're left with is soggy bread soaked in tomato juice. But not with the Intense tomato! It's perfect for slicing and dicing, retaining both its firm structure and its juice. This makes Intense tomatoes ideal for sandwiches, bruschetta, salads and pizzas. The easy way to add more freshness and flavour to your food!
The tomato stands out for its unique properties and should therefore not be missing on the vegetable shelf. It is a good addition to have with all other tomatoes. The product has been available on the German market for a number of years now and the number of consumers buying these tomatoes are still growing.
Research of the Intense among Germans has shown that they find no matching properties with other tomatoes and none as convincing as this tomato. What is especially positive, is the solid flesh which is ideal for slicing the tomato and the low loss of juice. Because of these characteristics, many consumers remain loyal to the brand, 87% therefore consider themselves a fan.
The Intense tomato has been presented in style at the Valstar stand during the Fruit Logistica. Valstar handed out some toast with a perfect slice of tomato and visitors enjoyed tomato carpaccio with a little bit pesto. A great success!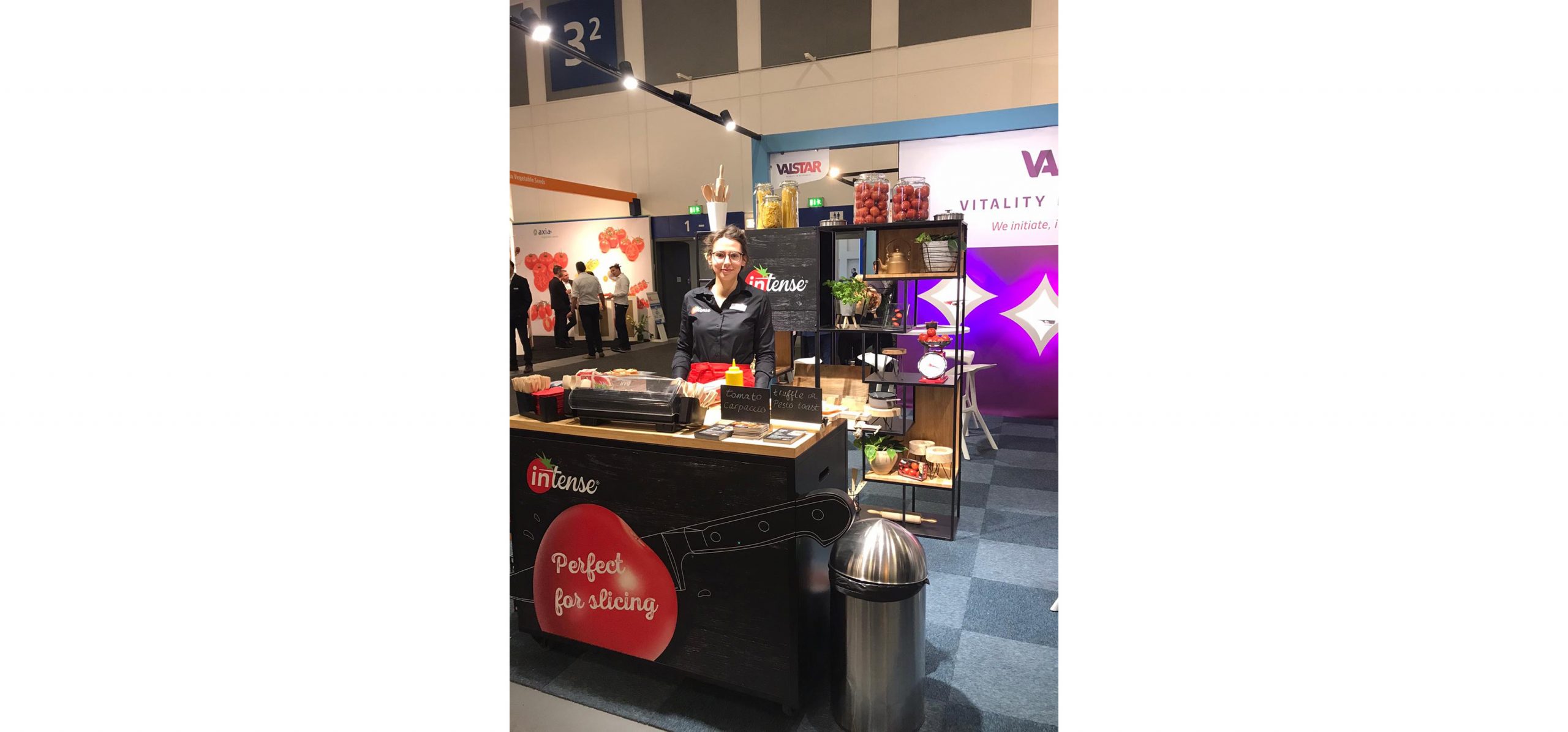 © Valstar Holland B.V.
New, sustainable packaging
Valstar has developed a new package to better highlight the characteristics of the Intense tomato. Under the Intense logo "die Schnittfeste" has been added to emphasise the firm structure of the tomato. The most used applications are shown and you will find a recipe for pizza and sandwich on the packaging. In this way it is clear at a glance what the tomato is suited for.
The theme of sustainability cannot be missed. The new packaging consists for the most part of cardboard, which is made from 100% FSC (Forest Stewardship Council) certified paper. But why then a plastic window? The reason for this is partly to protect the product. In addition, the research showed that visibility of the product is very important for the consumer to assess the condition of the tomato. Nobody wants to come home with damaged tomatoes. The window consists of PLA (Polyactic acid) foil, this bioplastic is made from a renewable, vegetable source and is compostable.

© Valstar Holland B.V.
For inquiries: Henny van de Wetering, Valstar Holland B.V., h.vandewetering@valstar.nl,www.valstar.nl 
Source: Press Release