Fruit and vegetable farmers protest in Madrid
Mon 29/11/2021 by Richard Wilkinson
Follow us :
Agrarian organisations, agro-food cooperatives and Coexphal protested last week outside the headquarters of the Ministry of Agriculture, Fisheries and Food against the crisis the sector is currently going through. Farmers arrived by bus from different parts of the country.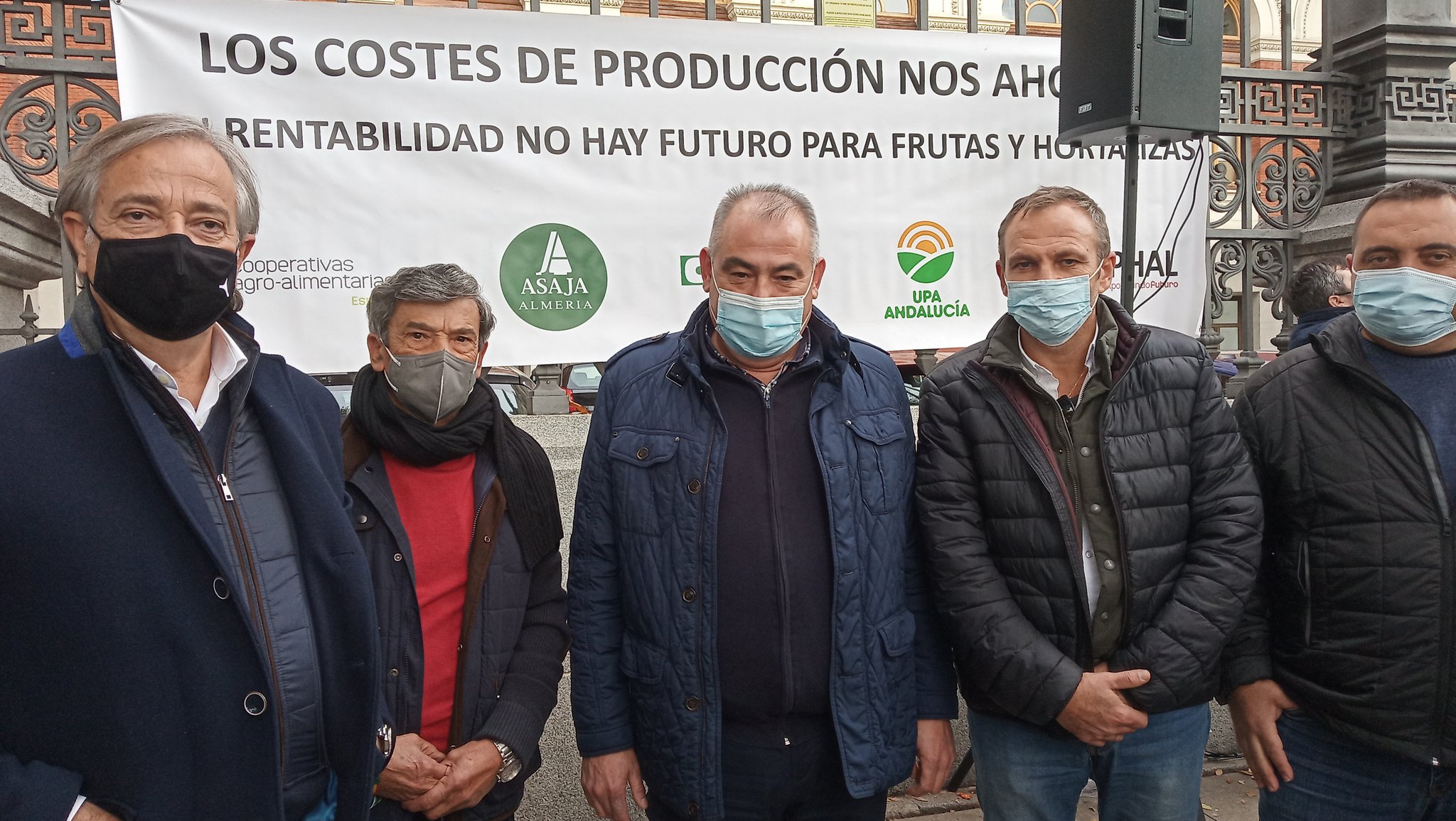 Antonio Navarro, president of Asaja Almeria, was part of the protest with other organisations.
The protest was preceded by a press conference, at which Antonio Navarro, president of Asaja Almería, said:
"The Ministry cannot continue to ignore the agricultural sector. The fruit and vegetable sector has been denouncing for years that it is sinking, that it needs fair prices, and the sharp rise in costs worsens the situation. We face unfair competition that makes it even more difficult for us and this cannot continue to be ignored."
Francisca Iglesias, secretary of UPA Almería, said:
"The Ministry must define its position on the preferential agreement with Morocco after the ruling by the European Court of Justice."
Juan Antonio González Real, president of COEXPHAL and of the agro-food cooperatives sector, said:
"The fruit and vegetable sector has been denouncing for many years the poor situation faced by farmers. The recent increases in costs are the last straw."
He added:
"We cannot bear this increase in costs. We need a series of measures to be taken such as a reduced agricultural VAT for production inputs, since the increase in costs may be around 12 and 15% compared to last season; and we also have a grievance with the entry of products from third countries which absolutely nothing is being done about and we need the Ministry to take measures now."
The specific demands made by farmers are for:
A special energy rate for farm production, in irrigation communities and in handling plants.

Fiscal measures to compensate for the increase in food production costs.

Recognition and awareness of the importance of the sector. 

Review of the entry prices set with third countries in the preferential agreements, to adjust them to the current cost of European productions.