Fresh produce value-chains are strategic for the organic sector
Thu 05/03/2020 by Richard Wilkinson
Follow us :
A wide range of value-chain sessions and exhibitors were covered by Eurofresh Distribution magazine during Biofach expo. They testify to the growing strategic importance of providing healthier consumer products and more ethical solutions.

Boosting the organic sector
by integrating breeding
into value chain partnerships
Organised by FIBL with the contribution of Eurofresh Distribution, OPTA, Cotton Accelerator and Econatura, one of the panel sessions of Biofach debated how to foster and finance organic breeding, considering the new EU regulation which requires organic seed and planting material for organic crops. Certified organic planting materials still represent less than 30% of today's organic crops. Even less is the ratio of specific organically bred varieties. All parties agreed that new value-added organic varieties are crucial to continue generating more value in the chain and to fuel increased consumption.
Network for a new vegan
organic standard
Forderkreis Biozyklisch-Veganer Anbau is the German and international association for promoting the "Biocyclic Vegan Standard" certified by IFOAM International. CEO Axel Anders argues that the vegan standard contributes to reducing environmental impacts, since animals have a higher CO2 footprint than plants. Germany is the major producing country so far with about 500ha of Vegan-certified crops. Certified Vegan wine, fruit and vegetables farms are emerging in France, Greece and Cyprus, with several other countries in transition, like Holland with 8 F&V producers.
India under transformation
towards organics
APEDA deputy general manager Dr Saswati Bose confirmed the gradual development of Indian organic production and consumption of fresh produce. This has also become one of the strategic goals of APEDA as the government agency in charge of promoting agribusiness exports. India exports US$515 million of organic products and produces 1.7 million tons. Its total organic area is 3.56 million ha, including 1.78 million ha (50%) cultivated.

Balcon de Nijar,
with more sustainable packaging
Since last November, the organic vegetables cooperative from Almería has marketed organic tomatoes with compostable sealed punnets, as well as new references for export markets like organic snowpea, Palermo peppers and dark beef tomatoes. Located in the Cabo de Gata natural park, Balcon de Nijar produces 50ha of organic greenhouse vegetables and exports 14 different varieties.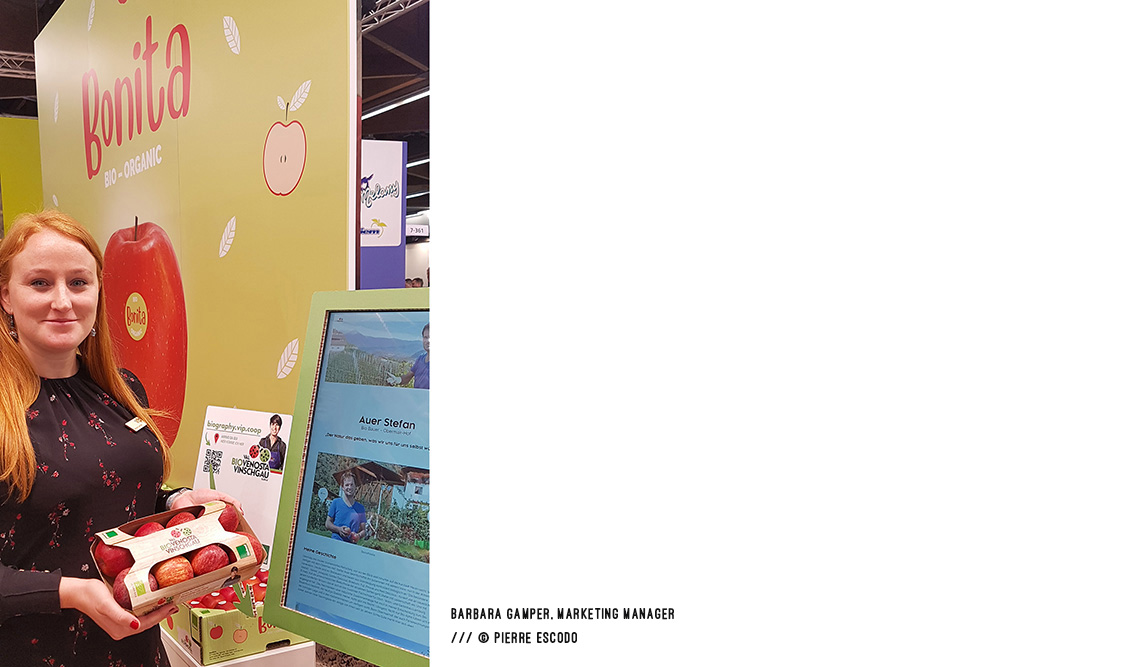 Bonita,
the new apple seduction by Bio Vinschgau
Part of the nº1 Italian apple group VIP, Bio Vinschgau is a cooperative fully dedicated to the organic cultivation of apples. It caused a sensation at Biofach with the presentation of the new "Bonita" organic apple for its flavour and attractiveness. With more than 90% "pinkish" red colouring, the variety is the result of a crossing between Topaze and CrispPink. 700 tons are available for its first commercial season. Bio Vinschgau also presented its new "Biography" project, which gives the consumer the opportunity to fully access the profile of the organic producer, with its name, story, photo gallery, videos and location. Bio Vinschgau incorporates 185 organic farmers, 1,000ha of organic orchards and 42,000 tons of certified crops. The VIP group markets a total of 350,000 tons.

Compagnie des Pruneaux,
nº1 producer of organic prunes
With 120ha of own certified orchards, Compagnie des Pruneaux is the nº1 producer and confectioner of organic prunes in Europe, and the 3rd for conventional prunes. Founded by the Briscon family 50 years ago, the Compagnie pioneered organic production in the '80s. Recent investments of €13 million have helped to double production capacity. Prune puree is its major speciality, which the firm supplies to the dairy, bakery and children's food industries.
Kiwiny,
the organic super fruit
Started 5 years ago, Kiwiny produces 27ha of organic kiwis and also develops value-added products. The firm presented a new line of energising wellness pouches based on kiwi and other fruit purees at Biofach.
Gruppo Tarulli,
organic seedless grapes
With 300ha of certified plantations, Gruppo Tarulli is the leading organic and Demeter biodynamic producer of table grapes in Europe. The family company has long been dedicated to seedless varieties for export, selecting from the best breeders like IFG (Sugar Crisp and Jack Salute varieties). It supplies a large assortment of varieties for 5 months' continued supply of red, black and white seedless varieties.

Legros Bio,
with large assortment of biodynamic produce
Specialists in Spanish organic products, the Legros Bio trading company has registered over 20% annual growth in its exports of biodynamic F&V. Based in Perpignan, Legros Bio exports more than 30 references of Spanish products, mainly supplying the German market.
Van der Plas Sprouts,
with wider organic range
The family company is the number-one producer of young sprouts or newly germinated plants in Europe, exporting daily to all of Europe, and beyond (e.g. to Dubai). In Nürmberg, the firm presented a wider range of organic and very healthy sprouts with green pea, purple radish, and broccoli – all very nutritious and anti-oxidant. "All of our sprouts are grown under the Planet Proof environmental label," said director Evan Vander Plas.