Elite Agro offers UAE consumers locally grown veg
Thu 20/10/2016 by Richard Wilkinson
Follow us :
UAE consumers are enjoying locally grown vegetables from Elite Agro, including a range of tomatoes and capsicums.
"Our eggplant and sweet potato continue to impress and we were fortunate to start some trial shipments of blueberries and cherries from Serbia."
From a brand new 20ha greenhouse and packing facility near Al Ain, supported by the existing 'home farm' facility at Al Maha, Elite Agro supplied as many as 34 SKUs to retail, wholesale and HORECA markets.
Success amid big challenge of summer
A lot of effort has gone into developing new lines that satisfy the customer. New this summer was a flow-wrap machine that enabled Elite Agro to present produce in the best possible way, while maintaining freshness and preventing contamination. This opens the door to many new options.
One of Elite Agro's most successful partnerships through the summer was the continuation of a 'Farmers Club' with a key local customer. The promotion of local product through the Farmers Club has meant that the shelves are not just full of imported product – which has normally been the case during the UAE summer.
Consumers have come to appreciate the high quality and slightly lower pricing of the local summer product, while at the same time, receiving the same benefits of safety and traceability as produce from Northern Europe.
Such partnerships open further opportunities for specialty and highly perishable products in the future. For the majority of local producers, summer is a huge challenge but Elite Agro has taken a strategic approach, instead saying summer is its friend and a season in which it will grow and supply locally.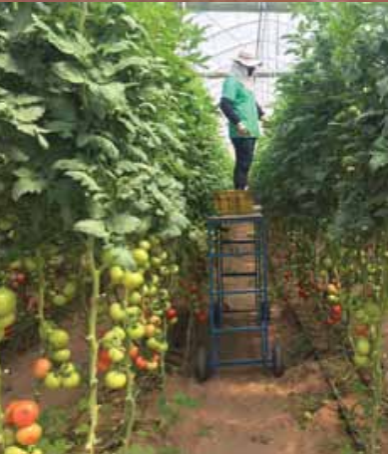 From Morocco and Serbia: blueberries, raspberries & potatoes
Summer production is a little easier in the countries where its subsidiaries are based. While Elite Agro had some trial shipments of blueberries and cherries from Serbia, the main business this year has been potatoes. The potatoes are all covered by a processing contract but exceeded production predictions by over 20%, setting up a fine benchmark for following seasons.
Raspberries are the first crop to come out of Elite Agro's Moroccan operation. At the time of writing, the feedback was positive. It was a great start to the raspberry growing season. The first variety expected to be harvested is the primocane Maravilla. Fruit set has been excellent and the expected yield is more than 12 tons/ha  for the first harvesting period starting at the end of September.
As for the Floricane harvesting period, expected to start in April-May for the Maravilla, Carmina and Esperanza varieties, the expected yield is about 15 tons/ha of top quality raspberry fruit under good winter weather conditions.
Elite Agro LLC is now certified to GLOBALG.A.P version 5, continuing a four year relationship with the certification of fruit, vegetables, cereals and forage. Its operations in Serbia and Morocco are setting themselves up for audits later this year, which will allow improved access to European customers.
Meanwhile, back in Abu Dhabi, the autumn planting is well underway in the net houses and Elite Agro is looking forward to a highly productive winter.
This article was first published in edition 145 (Sep-Oct 2016) of Eurofresh Distribution magazine on page 32. Read more fresh produce news from that issue at: www.eurofresh-distribution.com/magazine/145-2016-sepoct.