Dried berries driving growth in US cranberry exports
Thu 01/12/2016 by Richard Wilkinson
Follow us :
America's cranberry farmers are in the homestretch of the harvest in what looks to be another banner year for US cranberry production, reports the USDA Foreign Agricultural Service.
A bountiful crop of 8.59 million barrels or 390,000 tons is forecast for 2016 and just over a third of it will be exported to long-established markets in Europe and Canada, and also newer markets in Mexico, South Korea and China, it said in the report Cranberries: No Longer Just an American Tradition.
But it is dried rather than fresh cranberries that are driving growth in US cranberry exports.
"Demand growth for cranberries is tied to the popularization of sweetened, dried cranberries with strongest demand growth from markets with increasing populations and per capita income," the report says.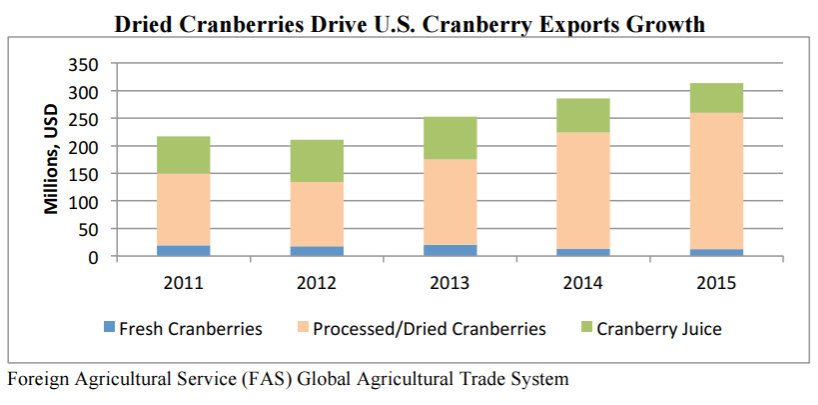 EU tariff concerns
Cranberries are native to North America. The US is the world's top cranberry producer and top supplier of cranberries to the EU, which is its biggest market for this product.
Processed cranberry exports surged in 2011 when the EU waived a 17.6% import duty on dried cranberries.
"The duty suspension for processed cranberries is up for review by the EU in 2017, but the trading landscape has changed. On October 30, 2016, Canada and the EU signed the Comprehensive Economic and Trade Agreement (CETA), which will eliminate and reduce tariffs between the EU and Canada. Canada is the second largest producer and exporter of cranberries, and through CETA, Canada has secured permanent duty-free access for processed cranberry exports to the EU.

"Also, Chile—the third largest producer of cranberries globally— signed a trade agreement with the EU and has had permanent duty free access since 2012."
However, the US does not have such a free trade agreement in place with Europe.
"If the EU does not renew the duty suspension on US cranberries, US producers and exporters will have a more difficult time competing with Canada and Chile to service the largest market for processed cranberries," the report says.
Source: Cranberries: No Longer Just an American Tradition, November 22, 2016 International Agricultural Trade Reports
Cranberry harvest image: USDA Agricultural Research Service