Cutting-edge Italian machinery
The new era of innovative post-harvest equipment features smart devices
Fri 10/06/2022 by Gabriele Orsi
Follow us :
TopControl launches new line of smart IPS machines
TopControl Gmbh
TopControl presents IPS, the last frontier in the conception of packaging lines. The new Intelligent Packing Solution series, featuring state-of-the-art electronics, consists of increasingly intelligent and proactive machines, characterised by an almost infinite variety of configurations. From the simplest sliding devices to the most complex ones that contain up to four levels for transporting raw materials, packaging, small or large boxes, the IPS machines offer an unlimited possibility of combinations that can be tailored to customer needs. A weighing system, smart handling tables and a new lighting system are all designed to allow ergonomic operating and optimal control of raw materials.
Turatti presents new super-centrifuge: Vortex H
Turatti
Turatti is to present an innovative new product to the world's salad processing market at this year's Fruit Logistica in Berlin. "It is called Vortex H and is designed to meet the need for large producers of convenience products to have a high productivity spin dryer with performance levels close to those of a drying tunnel – a large capacity and delicate handling of fragile products – while also offering the lowest moisture content currently available on the market. It has a capacity of 2,500 kg/hr for adult leaves or 1,000 kg/hr for baby leaves with a maximum of 2.5% residual moisture," said CEO Enrico Gribaudo. The basket has a large surface and a wider hole to allow excellent water drainage. The direct drive torque motor achieves high rotation speeds with excellent acceleration and braking characteristics.
Sorma completes its weighing machine range with the new compact WD4-S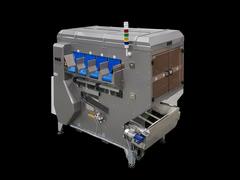 Sorma
Sorma has expanded its range of weighing machines with the addition of the brand-new WD4-S. This high-performance machine is superior to those already on the market, and, thanks to the feeder belts placed inside, it allows saving of space and can be installed within any warehouse. The extremely compact device was conceived mainly for citrus fruits but is easily adaptable to other types of fruit such as kiwi and avocado. Thanks to its latest-generation and industry 4.0 software, WDS-S demonstrates high levels of precision and allows weighing of up to 70 packs per minute.
Unitec confirms success of UNIQ Blueberry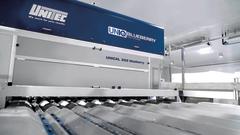 UNITEC
Unitec has unveiled a whole host of innovations recently, including the UNIQ Blueberry, the Unitec vision system for classifying the internal quality of blueberries. Combined with Blueberry Vision 3 technology for classifying external quality, the machine guarantees complete classification of the quality of this delicate fruit. Blueberry Vision 3 and the innovative UNIQ Blueberry technology allow fruit and vegetable producers to give even more value to their blueberries and meet the growing need to combine "beauty" with the "good" so that the final consumer is offered blueberries that are aesthetically pleasing but also, and above all, taste good. With these 100% in-company innovations, Unitec is forever at the side of its customers.