China opens its door to more imports
Wed 30/11/2016 by Richard Wilkinson
Follow us :
According to UN statistics, in recent years China's imports of fresh fruit and vegetables have exceeded its exports, a trend that continued in the first half of this year. In 2015, China's tropical fruit imports reached 2.9 million tons, up 8% yoy, and fruit imports from temperate regions climbed 33% to 0.75 million tons.
Thailand was again the biggest fruit exporter to China in 2015 – its 1.7 million tons accounting for 57% of the total volume – followed by the Philippines and Ecuador. The latter two being big exporters of bananas.
Though China is the world's second largest banana growing country, with about 12 million tons annually, it is eager to top up its banana stocks, especially over winter, taking imports of 0.95 million tons.
Its imports of the high quality Ecuadorian banana rose to 283,00 tons but the opposite occurred for bananas from Costa Rica – which went from supplying 11,000 tons in 2014 to almost none in 2015.
Dragon fruit the king with 813,000 t
In 2015, Chain's main import, other than bananas, tropical fruits by volume was dragon fruit (up 30% yoy to 813,000 tons), lychees and longan (405,000 tons), durians (300,000 tons), watermelon (200,000 tons) and mangoes and mangosteen (113,000 tons).
Thailand is the source of more than 90% of this fruit and dragon fruit accounts for about half of its tropical fruit exports to China. It is also the exclusive exporter of durian and dragon fruit. Vietnam exports 148,000 tons of fresh lychees and longans, both stalwarts on Chinese menus. Malaysia and Taipei supply China with mango, as does Australia with modest quantities in the off-season.
The volume of all fruit imported by China from Vietnam in 2015 was just over 158,600 tons, down 10% on 2014. Imports from Myanmar remained stable at under 70,000 tons. Indonesia and Malaysia both export less than 10,000 tons a year.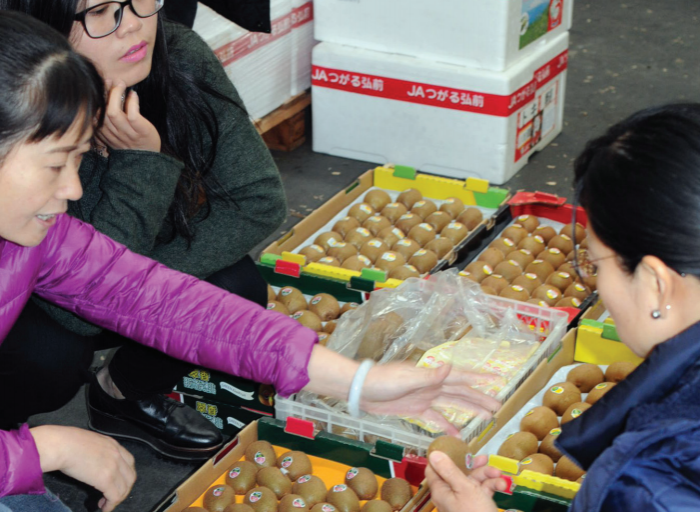 548,000 tons grapes, citrus, cherries and kiwifruit
China's total imports and exports of deciduous fruit, kiwifruit and citrus are increasing constantly. In 2015, grapes had the largest volume (251,000 tons), followed by citrus (215,000 tons), cherries (92,000 tons), kiwifruit (90,000 tons) and pears (8,000 tons).
The biggest exporter of these kinds of fruit is Chile, which with an export volume of nearly 200,000 tons – mainly consisting of grapes and cherries – accounts for almost a fifth of China's total. The US comes second with 126,000 tons – up 50% yoy.
Promotions have helped the US almost double its citrus exports to 40,000 tons, while South African citrus is a winner in summer (100,000 tons). New Zealand 'Jazz' apples found their way to Chinese supermarket shelves, while Zespri could overcome its tax problems with the Chinese authorities. Exports of kiwifruit increased more than 50% to 66,000 tons. In 2016, New Zealand surpassed the US and Chile to become China's top apple supplier.
The market for Australian and Egyptian citrus opened up and exports reached 35,000 tons and 21,000 tons respectively. China's neighboring country Uzbekistan is a larger supplier of grapes.
EU fruit shipments down since 2015
In 2015, the volumes of EU fresh fruit exports to China went down to 24,000 tons. Citrus imports achieved a poor 4,000 tons, while imports of kiwifruit from France and Italy went down to 12,000 tons. In 2016, a special effort was made to ship trial volumes of Belgian and Dutch pears and bi-colored apples from Poland. For 2017, Spain has high hopes for the results of a protocol signed between it and China allowing it to export peaches and plums there.
Since the Russian food embargo was applied in 2014, fruit and vegetables formerly exported to Russia have been partly reoriented towards certain Asian countries such as China and the Philippines, markets which were already open before 2014.
South East Asia – China's main partner
On the export side, Southeast Asia remained the key market for China's fruit, with Thailand at the top by far, followed by Vietnam and Malaysia, in terms of volume, Data shows exports to these countries have increased substantially every year. China's top fruit exports are apples, grapes and citrus.
LH