Life is Better with Fruit and Vegetables annual event
Follow us :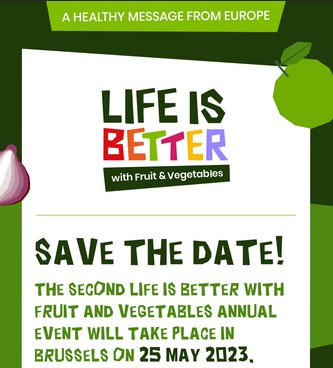 The event is scheduled to take place on 25 May 2023 in Brussels, following the successful opening press conference of the project. The venue and programme of the event will be announced soon. The event's first edition saw the participation of more than 100 representatives and journalists from the agricultural sector, with market analyses and testimonials from Millennial influencers regarding the eating habits of European Millennials. The 2023 event will focus on the challenges of the agricultural sector to keep fruit and vegetables accessible to consumers, starting from the results of Year 1 of the campaign. You can expect all of this and many more surprises in 2023 – stay tuned for all the developments!
In the meantime, all the material of the project is available on the website of Life is Better with Fruit and Vegetables, with a dedicated webpage for each of the target countries of the campaign (France and Ireland, in addition to Germany, Italy, Poland, and Spain).